Frequently Asked Questions
Do individuals or groups at York (including students) have to use an approved licensee to manufacture products with York name, mark or logo on them?
Yes, in most cases. Exceptions are made for products created at the request of the University for its own use, such as authorized work or sport uniforms, trophies, plaques or other purely ceremonial products awarded to individuals to recognize their academic, extra-curricular or work achievement. For more detail, see License Requirements. To see the list of approved York licensees, click here.
Who runs the Licensing Program?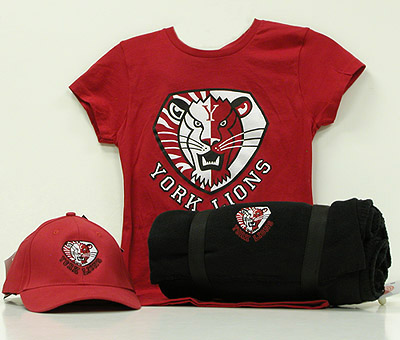 The Licensing Program is administered by the Office of the University Secretary and General Counsel through the Licensing Board and a Licensing Program Coordinator.
How does a company apply for a license to manufacture York branded merchandise?

Click on Licensees on the top menu for the steps to follow in applying for a license.
How do funds generated by the Licensing Program benefit York University?

The Licensing Program generates funds through royalties paid by approved York licensees. Funds have been allocated to support student projects and activities, to enhance the student life of York's campuses, and to promote York University, its names and marks. The program has provided funding to benefit numerous York initiatives over the years, including:
Annual Sports & Recreation Bursaries
York Youth Connection Camp
Red & White Days
York University Common Lighting Project
YorkWise Program
Vanier Green Basketball Court
Accolade Building Student Lounge
50 Commemorative York 50th Anniversary Benches
My Time Campaign
Annual campus give-away initiatives – mugs, screen wipes, mints, pencils and other items